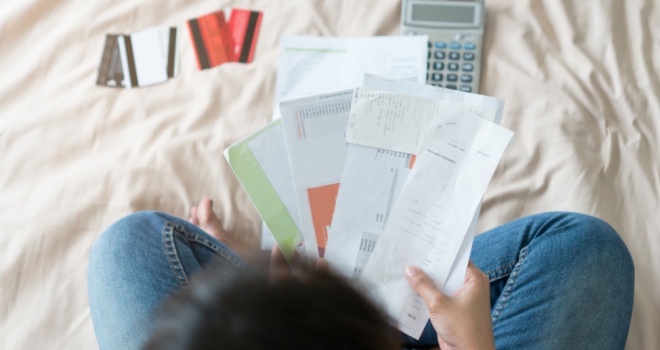 Rising credit card rates will cost homeowners £2.8billion over the next 12 months
"Under the right circumstances, consolidating expensive short-term credit into a longer-term loan at a lower rate can help families better control their cash flow"
The lender found that 12.7million homeowners could be affected by an annual increase in interest payments on their credit cards, store cards and overdrafts of more than £750 over the coming year.
Research by YouGov found that 3.8million homeowners are already feeling the pinch, as the average cost of interest on their revolving credit has risen by more than £60 a month in the past six months alone. This means they could spend an additional total of £2.8billion on revolving credit interest payments next year.
Laurence Morey, CEO of Pepper Money, said: "We know that with rising costs, the monthly commitment to pay off short-term debt such as credit cards, store cards and overdrafts can stifle many families' ability to meet their monthly expenses. , especially when the cost of that credit is also rising. We also know that, under the right circumstances, consolidating expensive short-term credit into a longer-term loan at a lower rate can help families better control their cash flow, allowing them to normalize their finances as they repay this longer-term credit.
"At Pepper Money, we regularly undertake a thorough analysis of our clients' changing circumstances after discussing a Pepper Money Homeowner Secured Loan to ensure we are fulfilling our mission to help our clients succeed, and data shows that the debt consolidation loans we advance are to hard working people with good credit scores and good income For example the median salary of our loan owner clients is £54,000, this which compares to the UK ONS median average salary of £31,000.Often these people have built up large balances over a long period of time and they take proactive steps to normalize their situation.In doing so, they also improve often their credit profile, and we see an increase in average credit scores in the period after taking their consolidation loan. now a comfortable cushion of equity in their homes. The average LTV on our second charge loans is just under 70% when taking into account their existing first mortgage. It's an option that is already helping many responsible families take control of their finances and we see it becoming even more important over the next year as interest rates on revolving credit continue to rise and pressure on the cost of living continues.