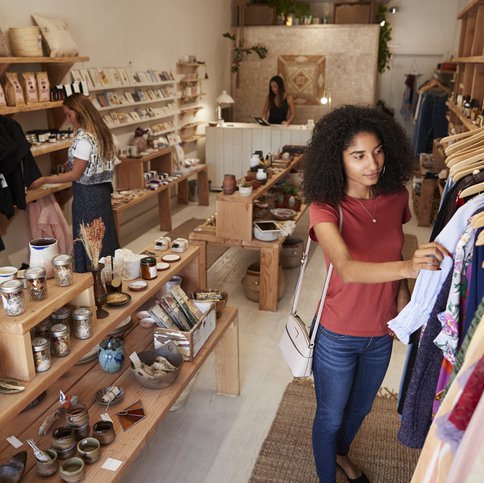 Popular payment app issues consumer spending warning
Is consumer spending about to decline? May be.
---
Key points
Consumer spending has been strong over the past year as Americans have recovered from the pandemic.
But now the fear is that spending will decline, hampering our economic progress.
---
In 2020, when job losses were rampant and millions of Americans suddenly had no choice but to dip into their savings to deal with the loss of income, many people cut spending not essential. Things have changed in 2021, however.
During the year, the economy strengthened and jobs became more widely available. Additionally, COVID-19 vaccines have allowed more people to return to work safely, and the return of in-person school has given working parents some much-needed respite.
Since mid-2021, consumer spending has generally been strong, which has actually led to extreme price increases. Whenever the demand for commodities exceeds the available supply, prices have the potential to rise. And that's what we've been grappling with over the past few months, as supply chains have failed to keep pace with consumer habits.
But while increased spending is good for the economy as a whole, one payments app worries that this trend will reverse in the short term. And if that were to happen, we could see unemployment numbers rise dramatically.
Is consumer spending headed down?
In early February, PayPal executives issued a warning during the company's earnings call that consumer spending was about to decline, and possibly dramatically. Chief Financial Officer John Rainey blamed this on a combination of the omicron surge and inflation.
While wages rose across the board in 2021, inflation rose at such a rapid pace that workers, on average, found themselves with a pay cut. And the fear is that low-income households, in particular, will have to cut spending to offset the rising cost of living. This could cause a ripple effect where businesses lose revenue and lay off staff, leading to an increase in the number of unemployed.
Should layoffs be anticipated?
Right now the labor market is strong and many companies are desperate to hire. But if you're working for a company that's barely been hanging on since the pandemic began, you might want to shore up your finances in case things get worse — and dust off your resume in case you need to start looking for a job. work.
That said, many jobs will not be affected by a drop in consumer spending. And even if consumers start to cut back on essentials like food, for example, that doesn't mean your grocery shopping job will automatically be compromised.
But it still wouldn't hurt to pump some extra cash into your savings account in the coming weeks if possible. That way, you'll have a cushion in case your situation gets worse.
Will lower spending fuel another round of stimulus?
One of the main reasons lawmakers approved multiple rounds of stimulus checks during the pandemic was to kick-start the economy and help its recovery. If spending falls to a noticeable extreme, a fourth stimulus check could be a possibility. But we would need to see a fairly drastic drop in spending for another stimulus check to be warranted – and that's not something we should be hoping for.
The best credit card erases interest until 2023
If you have credit card debt, transfer it to this top balance transfer card guarantees you an introductory APR of 0% in 2023! Plus, you won't pay any annual fees. These are just a few of the reasons why our experts consider this card a top choice to help you control your debt. Read the full The Ascent review for free and apply in just 2 minutes.